When redesigning your bedroom, there are several things that you need to take into consideration. One of the most important aspects is the size of the room. It should not be too small or too big, but it should be large enough for all of the furniture you'd like to put in the room.
Decluttering
The first step in redesigning your bedroom is to begin decluttering. This can be a daunting task. First, determine which items you want to keep and which you can part with. Having a pile of papers and other objects in your bedroom makes it hard to decide what to keep.
Once you have identified the items that don't belong in your bedroom, move them to a more suitable space. If possible, store off-season clothing and other items out of the bedroom. Next, declutter your closet. Keeping only three items on a shelf, drawer, or flat surface is a good idea.
The bedroom should be a space for rest. However, if you work in the bedroom, it may not be practical to keep your work station there. If you have to work, consider placing your desk in a corner or in a closet. This will allow you to conceal any items that might be related to work. If possible, keep visible items in a pretty container. Closed containers, on the other hand, can be used to store paperwork or other items that may need to be kept out of sight.
Once the bedroom is decluttered, it will be easier to organize it. This will ensure that it is easier to put clean clothes away. You will find it easier to keep an organized and peaceful space, which can improve your sleep hygiene. Your bedroom will also be easier to clean if you declutter it regularly.
A small bedroom can easily get messy, and clutter will make you less productive. Fortunately, decluttering your bedroom will help you make a space where you can sleep peacefully. A decluttered bedroom will also help you find hidden storage spaces. For instance, if you have a closet that reaches the ceiling, you can use this space as storage for items that are out of season.
If you want to design your bedroom with more space, eliminate bulky furniture and unnecessary storage items. You can also make use of the under-bed space with flat boxes or built-in drawers. You can also install overhead shelving and use trays to hide jewelry. You can also use light pink colored rugs for your bedroom floors to enhance the look.
Choosing The Right Color Scheme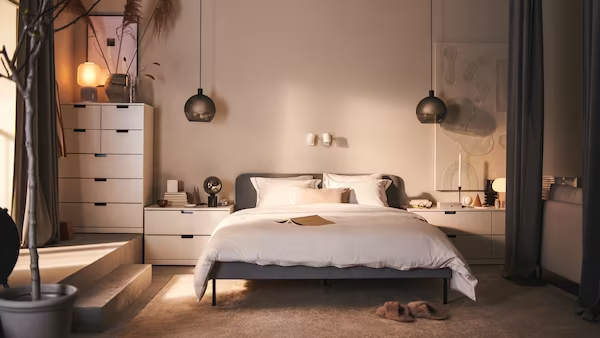 Color is one of the most important aspects of bedroom design. It sets the mood, adds personality and adjusts the visual temperature of the room. Studies have also shown that some colors are good for sleeping, so be sure to choose a color scheme that will promote a good night's rest. There are many ways to incorporate color into your bedroom decor, from window treatments to decorative accessories to artwork. To get started, look through decorating magazines and websites to get some ideas for color combinations.
If you don't like bold colors, you can also go for neutral color schemes. Neutral colors look great in bedrooms and will balance out other colors in the room. White can be used in bedrooms in many shades, including antique, off-white, ecru, linen, pearl and eggshell. White is a versatile color that can be complemented with metallics, which add a touch of polish and visual interest.
Choosing the right color scheme for your bedroom can be tricky. Keep in mind that a bedroom should express your personality, so make sure to consider your style when choosing the color scheme. A neutral color scheme is relaxing and soothing. Bright colors, however, can add a bit of drama to a room.
If you want a bold color scheme, it's a good idea to pick a wall accent that will draw attention to a particular area of the room. A bright color on one wall can make a narrow room look wider. A light color on the other hand, will bring more light into the room. Incase of your bedroom and bed, using light colored pillow covers and right size comforter would provide utmost comfort.
While blue and grey are cool-toned, they are calming hues. According to Donna Frasca, a holistic designer and color expert, blue and green colors create a calming atmosphere. While warm colors evoke a feeling of energy, they may be better suited for a kitchen or living room.
Color scheme can be tricky in open floor plans. The color scheme need not be the same in all the rooms, but it should be consistent from room to room. You can also follow the architectural style of the house in choosing colors. Corners and transition areas are usually natural areas to break color transitions and start new wall treatments. Decorative accessories can also be in different shades of the same color.
Conclusion
Changing your bedroom design can be a great way to upgrade the space and make it feel more comfortable. It is a great place to display your favorite items. A well-designed bedroom can also lead to better sleep.